---
Subvertisements - Reclaiming Your Mind
These images link to two gallerys:
---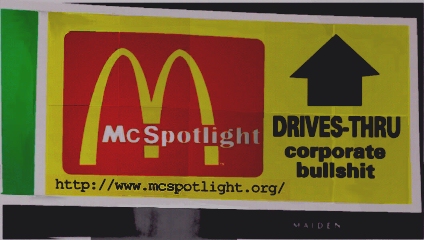 Billboard subverts: because, as according to one donor "McDonald's customers are the ones who should be reading your information.". What more is there to be said!
Tube/Subway art: more subtle (the reader isn't quite sure if this is a real advert or not!) but no less effective, these pieces challenge the reader and give more information.
| | |
| --- | --- |
| | Drive Thru Mayhem: even MORE subtle - can you spot the 'problem' with this picture? Look very closely .... still can't get it, perhaps this might help. |
The images may take some time to load but are well worth the wait.
A special thanks to the people who sent them in.
If anyone should stumble across any others, please send us the photos and details (location, date etc) ;-)
---
See also: Honest Adverts - vs. - Deceptive Adverts